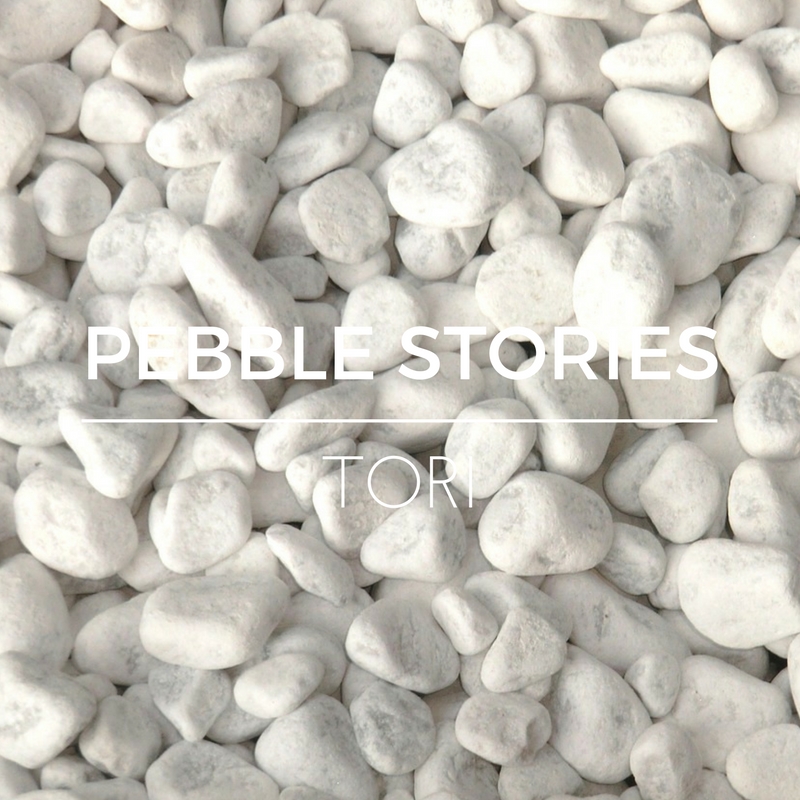 The third instalment of Pebble Stories is here – it is Tori's turn to reveal all. Our manager reveals her beauty favourites, top tips and other fun facts about herself!
What inspires you to work in the beauty industry?
The creativity, the fabulous people who work in this industry, the fact that no day is the same and every product and scent is different to everyone.
What's your "write home about" greatest career highlight?
It's just around the corner; watch this space for the best new home fragrance launch.
If you weren't doing what you are doing, what would you be doing?
6 year old me would say Sea Lion tamer, more socially aware of the horrors of Sea World me says a florist or gardener, luxury of course- I'll see you at the Chelsea Flower Show.
What's next for the beauty industry or what would you like to see created? Product or service
More customisation, smarter machines and water, water everywhere. I can't tell you what I would want to see created, that's my secret…
What phrase / motto do you believe in the most / that you use in your life?
Difficulty is what wakes up the genius- Ovid
It reminds you that problems will make you stronger whether they are in your control or not.
What is your favourite spa treatment?
The mind blowing Natura Bisse Oxygen Facial I indulged in recently courtesy of the amazing Perfect 10, skin transforming and I didn't even have to leave the house.
What products are part of your daily, essential routine?
I have a fairly open relationship status with hair and body products, basically trying whatever catches my eye but when it comes to skincare I am very monogamous to certain steps and product types. Starting with a good thorough cleanse with an oil balm based emulsifying cleanser- I incorporate some facial massage if I have time and will use a mild peel once or twice a week.
I am a serum and oil junkie so I always have a few of these on the go as my next step in skincare; at the moment I swap between NIOD's multi-molecular Hyaluronic Complex and Superseed by Madara. I finish with either Dr Organic Manuka Honey moisturiser followed by a standalone SPF during the daytime or La Roche-Posay Rosaliac UV Light.
What super power would you most like to have?
The ability to turn water into wine.
What is your one desert island beauty product and why?
There is no problem Sarah Chapman's Overnight Facial can't fix, plus the scent would work wonderfully on a tropical island
Who is your beauty guru or icon that you look to for inspiration and advice?
My mother, the indomitable and impeccable Jan Bradford.
Do you have a secret beauty tip you can share?
Put your eye cream in the fridge and thank me when you try it.
What are your top beauty boosting foods?
I am a firm believer in the healing powers of the avocado- cubed in a salad or mashed on your face its good either way. Honey and Flax Seed Oil are also miracle ingredients.
What is your guilty culinary pleasure that you'd never admit to?
Cold Bolognese on toast.
What is your signature fragrance and how do you wear it?
Anything with orange blossom or neroli in it worn liberally all over me, on a scarf and around my head to scent my hair.
What's your signature dance move?
The Snowball sibling's signature move is angry fist pump combined with snakey hips
If you could be transported each weekend to the same destination, where would we find you?
Dublin, my second home.
What are your can't-go-on-holiday-without products?
Factor 50 sun tan lotion (I burn), the Air hairbrush to deal with my spaniel like wet hair and my new recently discovered First Aid Beauty Ultra Repair Cream light and whipped and also amazingly priced.
What's the best beauty tip you've ever been given and who gave it to you?
My sister told me to never over pluck my eye brows, she is to blame for their care free abandon.
What's your karaoke knock out song?
Go Your Own Way by Fleetwood Mac- sang with the passion of a jilted lover, which they basically all were…
Save
Save